MTLSD Budget Receives Award Winning Recognition for the 27th Year
The Association of School Business Officials International (ASBO) recognized the Mt. Lebanon School District for excellence in budget presentation with the Meritorious Budget Award for the 2021–2022 budget year. This is the 27th year in a row ASBO has recognized the District with this distinction.
ASBO International's Budget Award promotes and recognizes best budget presentation practices in school districts. Participants submit their applications and budget documents to a panel of school financial professionals who review the materials for compliance with the MBA Criteria Checklist and other requirements and provide expert feedback that districts can use to improve their budget documents. Read More
For the first time, U.S. News & World Report announced the 2022 Best K-8 Schools rankings. The data encompasses more than 80,000 public elementary and middle schools across the country.
Both of our middle schools rank in the top 1% across Pennsylvania and all seven of our elementaries are ranked in the top 5%. Read More
The Middle States Association Commissions on Elementary and Secondary Schools (MSA-CESS) announced on Friday afternoon that 201 schools and school systems in 24 states, as well as Puerto Rico and the Virgin Islands, and 21 other countries have earned accreditation or reaccreditation, which is the gold standard for measuring and advancing school improvement.
We are very pleased to announce that our High School's Music program has been selected as a Program of Distinction. In the past, both our High School's School Counseling and Visual Arts programs have been awarded this distinction. Read More
Congratulations to Kaloyan Stefanov, who was named as a National Merit Semifinalist in the 2022 National Merit Scholarship Competition!
Last month we recognized twelve of our Mt. Lebanon High School seniors and we are excited to announce that with the addition of Kaloyan, we have the largest group we have seen in recent years. Read More
At the October 18 School Board meeting, PTA Presidents and PTA Council were recognized for their leadership and tireless volunteer efforts on behalf of our students. Thank you for all you do! Read More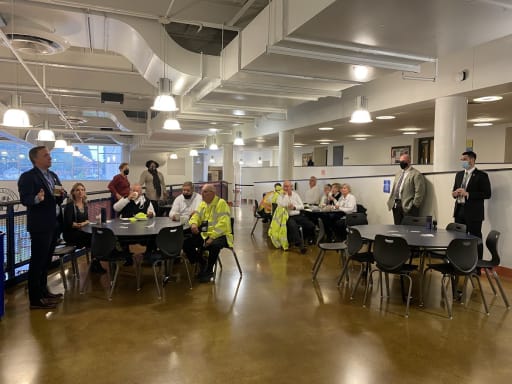 Dr. Steinhauer along with district administrators held a light breakfast and coffee for our school crossing guards. This annual tradition is to thank them for all they do to keep our students safe. They are often the first and last people to greet, or say goodbye to, our students during their school day. They are an integral part of our neighborhood school communities and we appreciate their hard work!
New banner murals have been installed on the grand staircase of our high school. The murals exhibit 2,917 unique squares over nearly 20 banners. The 2D and Honors 2D student artists hope to encourage a positive culture amongst peers with their work. The sayings portrayed are designed to reflect who we are as Mt. Lebanon School District and inspire us as citizens of a school community. Read More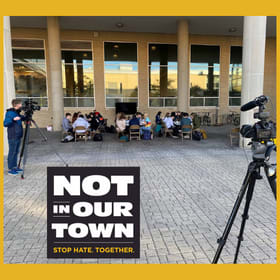 Last week, Mr. Pete DiNardo's AP US Government classes participated in filming for the latest project of Not in Our Town. Students held candid discussions on the topic of free speech in an era of hate. Each small group worked collaboratively to envision what necessary changes should occur to put an end to hate crimes. We look forward to sharing more details on the finished project once they are available.
The Mt. Lebanon School Board of Directors selected Mr. Lawrence Lebowitz for the recently vacated seat at a public meeting on October 11. Mr. Lebowitz was sworn in at the meeting and took his seat with the board.
He will be a part of the Board of Directors until the December Reorganization Meeting.
The Pennsylvania Department of Health (DOH), in partnership with Concentric by Ginkgo Bioworks (Ginkgo), is offering COVID-19 testing services at no cost to all K-12 schools across the Commonwealth for the entire 2021-2022 school year. We are excited to share our partnership with Concentric by Ginkgo regarding K-12 COVID Testing in our schools.
To learn more about the testing process, read through frequently asked questions, and to opt-in to the voluntary testing process, follow the link below.
In our District's ongoing support of the COVID-19 vaccination effort, we plan to host a vaccination clinic for students who are 5 to 11 years old using the Pfizer-BioNTech COVID-19 vaccine. It is anticipated that the vaccine will be authorized for this age group in the coming weeks. Participation in this clinic is voluntary.
So we can appropriately plan and ensure that we secure enough vaccines, please complete the form below by 5:00 p.m. today, if you are interested in having your child receive the vaccine. This information will be kept confidential and used only to secure the necessary amount of vaccines.